WELCOME TO
SENTINEL EMERGENCY SOLUTIONS
Sentinel Emergency Solutions is your premier emergency vehicle and equipment dealership in Missouri, Illinois, and Indiana. We offer exceptional sales and service to make sure your department is prepared to best serve your community. At Sentinel, we dedicate ourselves to exceeding the expectations of departments by providing them with the best state-of-the-art apparatus and equipment.
We take pride in giving you, our customer, the best maintenance service after the sale. We are proud to be teamed up with the industry's leading manufacturers such as Rosenbauer Fire Apparatus, MSA, Hurst, Lion, and many more! The Sentinel team and all our partners are deeply devoted to helping you do your job to the highest and safest standards when duty calls.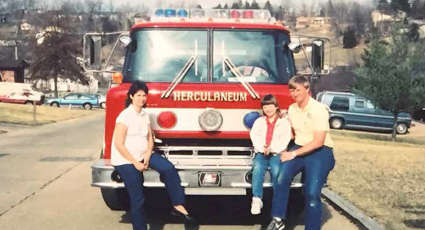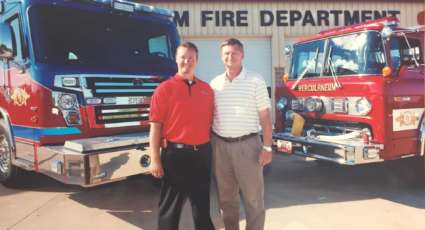 September of 1986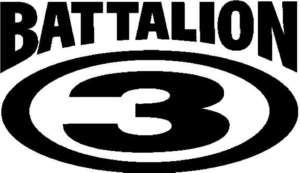 In September of 1986, Bill Franz and two partners started Battalion Three Inc. One partner left in 1988 and, in 1990 Norma Franz bought out the third partner. Bill and Norma moved the business to the basement of their home in Imperial, Missouri. The first full-time employee, Glenn Agee, handled inside sales, Norma did the accounting, and Bill was busy making sales calls to customers.
1988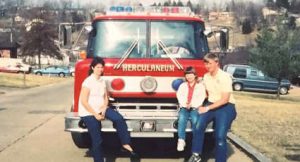 In 1988, Battalion Three sold their first fire truck to the Herculaneum Fire Department; an American Eagle pumper. In the following years, Battalion Three continued to grow.
1995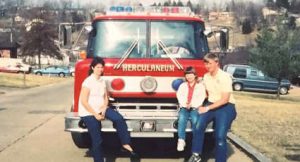 After two separate moves, the company finally found a home at 23 Grandview Park Drive in Arnold, Missouri. With the new location, Battalion Three began a service department with two bays and one mechanic who also did road service while working out of his pickup truck.
2000
In 2000, the company made a big switch from selling Ferrara Firetrucks to the new Rosenbauer America brand. Around this time two of the three Franz family children, Amy and Brian, became involved in the family business. Amy started off in the accounting department and Brian was a mobile service technician.
2007
In 2007, Bill and Norma sold Battalion Three to a group based in Peterborough, New Hampshire. Brian started Franco Fire Equipment.  Amy, who was living in England at the time, flew home for a couple of months and the two of them got things going.  Most prior employees came back to work and within four months of operation, Franco was the same as Battalion Three after 20 years.
2014
In December of 2014, Franco Fire Equipment purchased the other Rosenbauer dealer, Towers Fire Apparatus in Freeburg IL, and formed Sentinel Emergency Solutions.
Today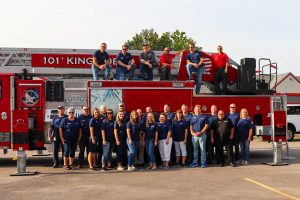 Thirty-two years and hundreds of firetrucks later, Sentinel Emergency Solutions employs 41 dedicated people throughout three states. Our eleven-bay service department in Freeburg, Illinois allows us the ability to do basic service all the way up to wreck repair and refurbishments. The six road technicians have service vehicles that are equipped with parts and tools to get your fire truck back in service quicker. Our eleven sales representatives in Missouri and Illinois are experts in selling products from over 50 different manufacturers. Sentinel's six apparatus specialists take pride in building your next fire apparatus exactly how you imagined it. Sentinel Emergency Solutions is truly a family-owned business that excels in making sure that customer satisfaction is the number one priority.
ROSENBAUER FIRETRUCKS SOLD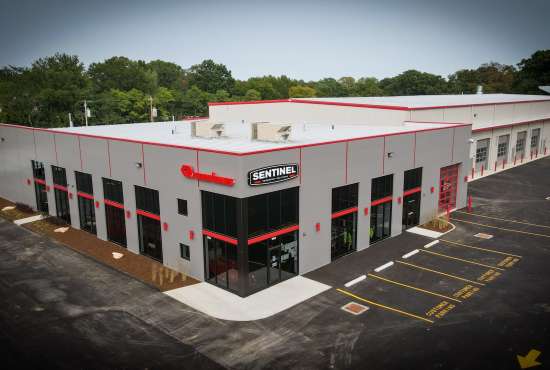 New Headquarters in St. Louis, MO 
There's no grand sales pitch about how we work. It's perfectly uncomplicated: We sell quality products at a fair price and service what we sell.
By leveraging our longstanding relationships with trusted, reliable suppliers, and by providing the expertise of our highly skilled technicians, we build, supply and service:
Sentinel was only recently born. So how can we have over 90 years of experience? Because we created a bigger, better company by merging two great companies: Towers Fire Apparatus and Franco Emergency Solutions. Our increased size means we bring more strength and a larger commitment as we continue to serve the 4-state region of Missouri, Illinois, Indiana, and Kentucky.
With two Midwest locations and nearly 50 employees, our sales and service departments broadly serve first responders and personnel in the Fire industry.