At Sentinel Emergency Solutions, we understand if you can't bring your fire truck to our shop for repairs. That's why we have six highly trained mobile service technicians that can perform most repairs in the comfort of your firehouse. Our team consists of fully stocked service trucks and technicians that are tactically placed to better serve you 24 hours a day, 7 days week.
Capabilities:
Accident Repairs

Pump Testing 

Valve Repairs 

Ladder Testing

Aerial Maintenance

Air System Repairs

Preventative Maintenance  

Pump Maintenance and Repairs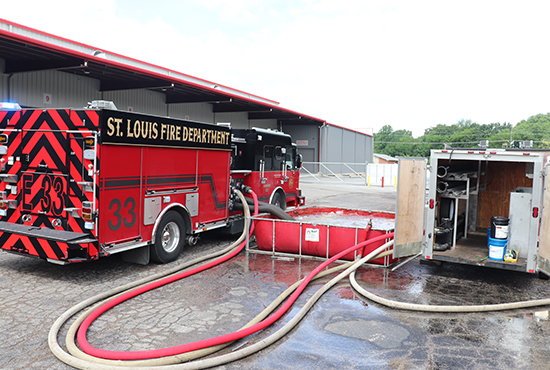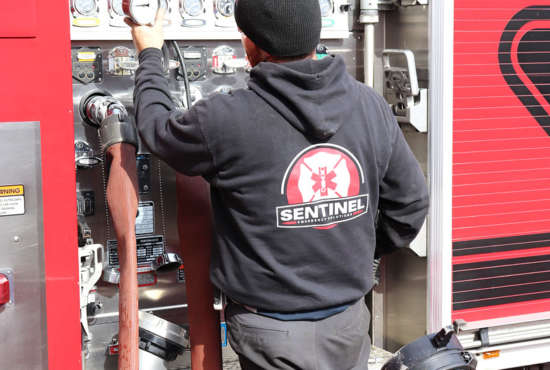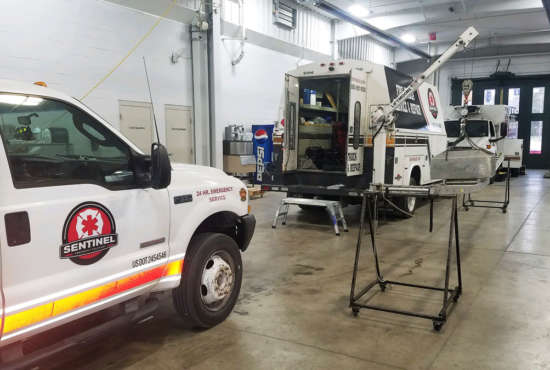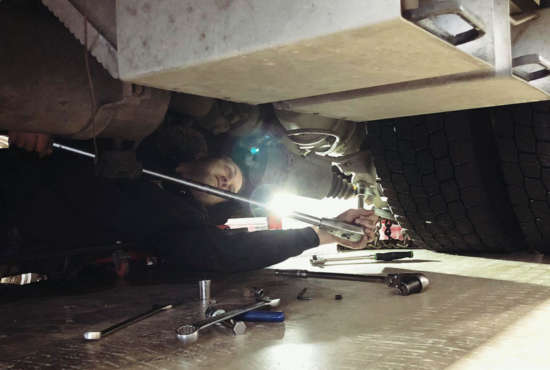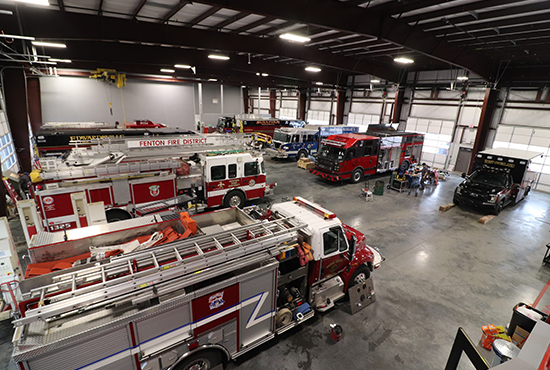 Pump-Testing-1-550x370-Image 2
Ladder-Testing-550x370-Image 4
OnSpot-Tire-Chains-Maintenance-550x370-Image 7
Please call our office to schedule your repairs and advise if you would like it
done at your engine house or at our facility.
Unfortunately, accidents do happen. Do you have a dependable place to take your damaged apparatus if one does? Sentinel Emergency Solutions is your one-stop shop for full-service paint and body repair. Our 50-foot downdraft paint booth and custom paint mixing station allows our two highly skilled technicians the versatility to do just about any type of repair. We know you take pride in your fire apparatus, so next time let Sentinel Emergency Solutions repair it back to like- new condition.
Capabilities:
Accident Repairs

Complete re-paint

Corrosion & Rust Repairs

Panel repair/compartment door repair

Refurbishment

Striping/Lettering

Two-Tone Paint Schemes

Roll Up Door Repair

Hinged Door to Roll Up Door Install

Interior Upholstery Repair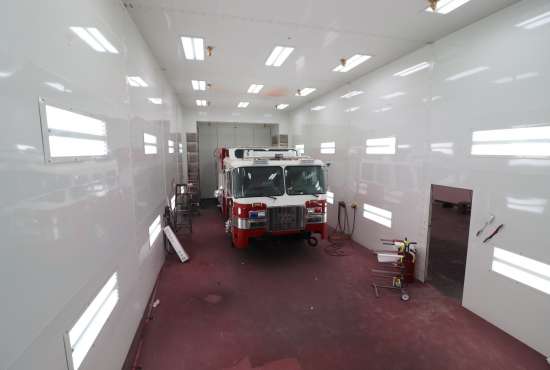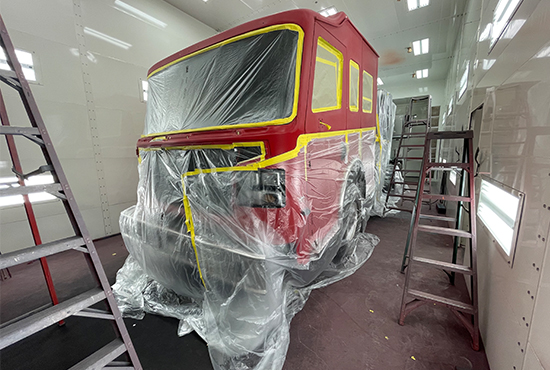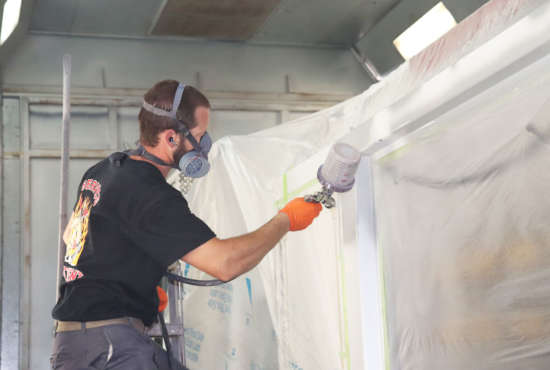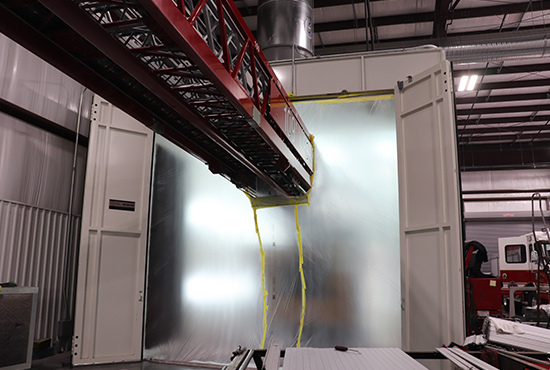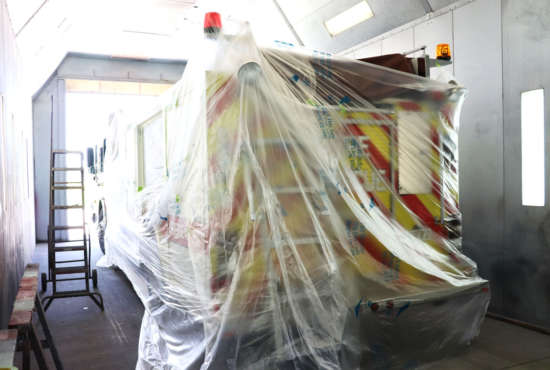 IMG_3223-scaled-550x370-Image 1
Painting-Job-550x370-Image 6
Paint-Booth-550x370-Image 5
Capabilities
Accident Repairs

Compartment Upgrades

Custom Flat Bed Body Installation

Custom Tool Mounting

Custom Painted Mounts

Fabricated boxes, trays, bins, toolboxes, brackets, racks, etc.
Tools
Heavy Duty Brake

Heavy Duty Sheer

Pipe Threading Machine

Aluminum & Steel Welders

Torches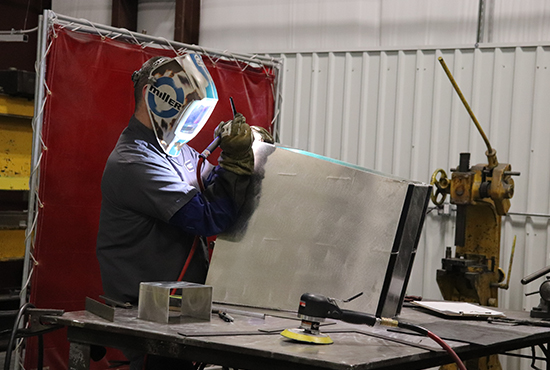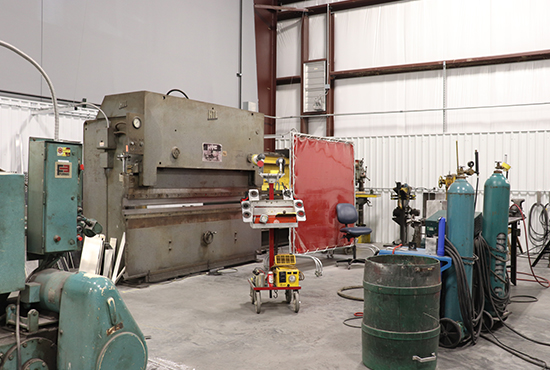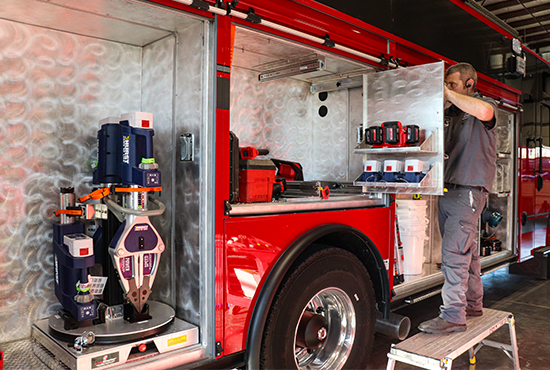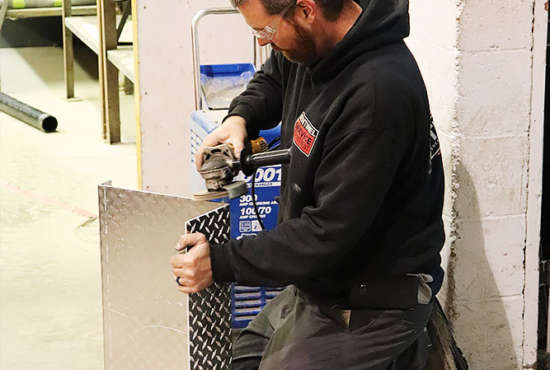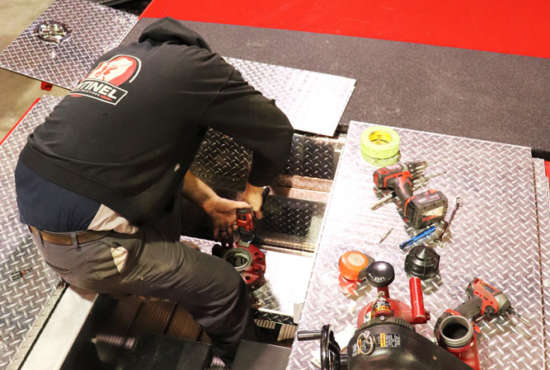 Fabrication-5-550x370-Image 1
Fabrication-3-550x370-Image 4
PICKUP & DELIVERY SERVICE
Low on manpower and need help getting your truck to the shop?
No Problem, WE'LL PICK IT UP! We'll leave a car at your engine house and take your truck to the shop. Don't worry about anything. Can you bring your truck to us but no-one to take you back? Take our car.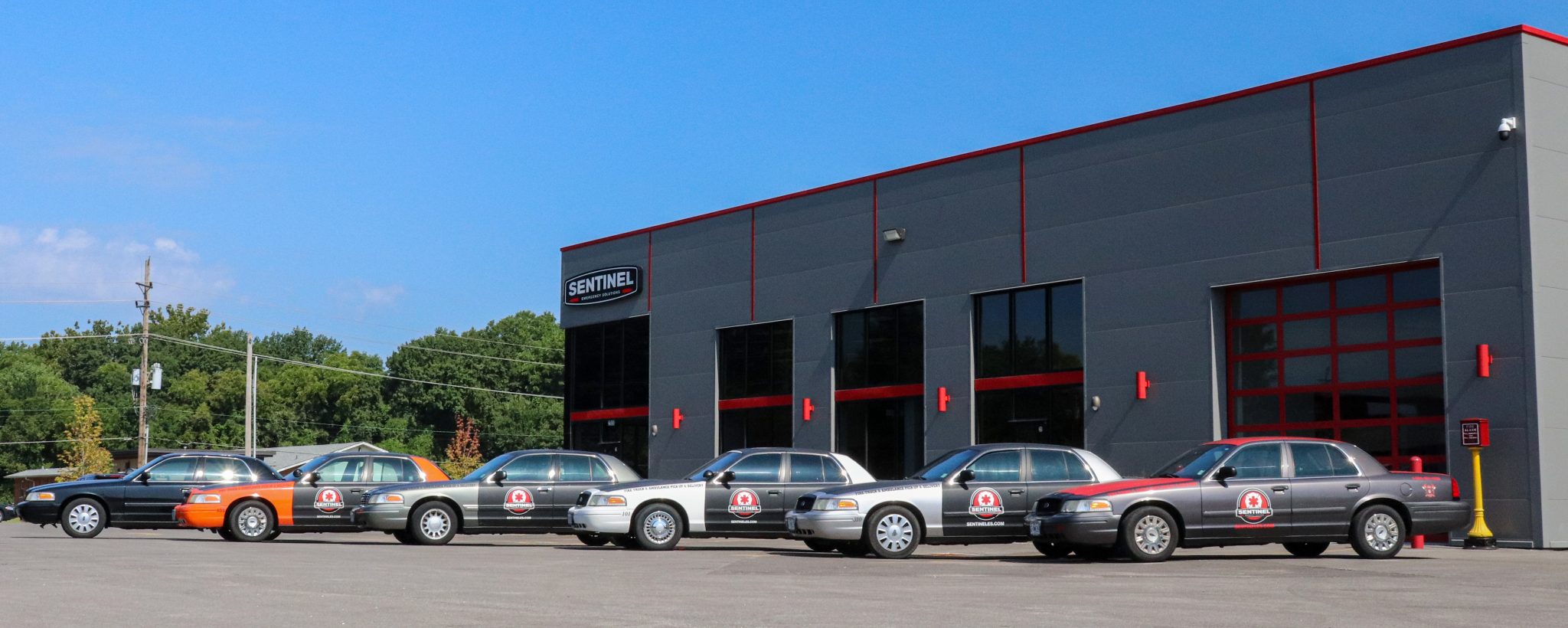 SENTINEL SERVICES INCLUDE:
24 Hour Emergency Service Available
5 Ton Overhead Crane for Major Repairs
Pump service

Replace transfer case oil
Lube valves
Lube control linkages
Adjust stops on valves
Adjust pump packing
Check foam system operation
Check gauges
Check primer system

Pump overhaul/replacement

Replace impeller assembly
Replace seals and gaskets
Pump test
Overhaul transfer case
Replace all bearings, seals, and gasket
Replace transfer case lube
Pump test

Valve repair/replacement

Replace ball and seals in valve

Water tank replacement

Fabricate new cradle
Install polytank and replace connecting hoses

Preventive Maintenance Services: Quarterly or Annually

Replace engine oil
Replace oil filters
Replace fuel filters
Replace coolant filter
Lube chassis
Check List
Transmission Fluid if needed
Air Filter if needed
Hose bed covers – canvas or aluminum
Air conditioning repair

Repair leaks
Replace individual components
Clean evaporator coils
Clean condenser coils
Replace service drier
Replace belts and hoses
Service drain system
Repair control system

Brake repair/replacement

Replace drums and rotors
Service hubs, seals, and bearings
Replace brake linings
Replace hardware
Lube brake cams and calipers
Replace brake chambers and adjust
Repair air systems
Replace wheel studs if needed

Aerial service/inspections

Clean and grease and serviceable points and rails
Adjust cable tensions
Adjust rotation, elevation, and extension timing
Replace hydraulic filters
Leak test hydraulics
Check outrigger operations
Check torque box

Hydraulic service, repair, hoses, cylinders, and outriggers

Replace leaking hoses and fittings
Reseal hydraulic cylinders
Replace pumps and PTOs
Replace fluids and filters
Pump tests at service centers or on-site locations

Annual Pump Test
Vacuum test

Welding – steel, aluminum, structural

Fabricate parts out of steel and aluminum

Add on lighting and LED upgrades

Compartment lighting
D.O.T. lighting
Emergency warning lighting

Crash/ARFF truck repair

Mechanical repair
Paint and body repair
Pump repair
Plumbing repair

Electrical repairs

Electrical shorts
Accessory add-ons
Module replacements
Charging systems
Generator systems
V-Mux systems
Command control and data systems

Equipment mounting/bracket fabrication

Fabricate custom brackets for mounting equipment
Install accessories

Portable pumps and skid units

Made custom to your specs

Suspension repairs

Spring and pin replacement
Kingpin replacement
Independent Front Suspension
Ball joint and tie rod replacement
Steering gearbox replacement
SENTINEL IS AN AUTHORIZED SERVICE WARRANTY CENTER FOR:
ROSENBAUER APPARATUS (AND ALL OTHER COMPONENTS INCLUDED WITH NEW APPARATUS)
AKRON & ELKHART MOTORS
WATEROUS FIRE PUMPS
HALE FIRE PUMPS
ON-SPOT AUTOMATIC TIRE CHAINS
WILL-BURT LIGHT TOWERS
COMMAND LIGHT TOWERS
PRO POLY WATER TANKS 
SMART POWER AND HARRISON GENERATORS