Our Cobra platforms are ideal for rescues where there's not a lot of room to maneuver, with unbeatable safety when lives are on the line.
With the latest technology to automate safety systems and simplify operations, you can rely on our Viper to make sure everyone goes home.
Rescue conditions are not always ideal. When you need an aerial ladder to do more than just flow the water, look no further than the Raptor.
Equipped with a combination telescopic and articulating boom, the T-Rex is the most powerful articulating platform in the industry.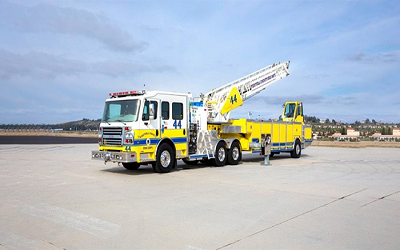 Our tiller program offers multiple body construction choices, tillerman cab styles and corrosion resistant coatings for the aerial device.
The Roadrunner combines the compartment space of a rescue-pumper fire truck with the ability of an aerial elevated waterway.